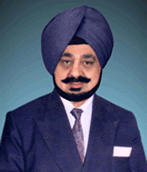 Lt. Col. S. S. Mehar, Manager, Little Angels Sr. Sec. Public School, unfortunately, snapped off his ties with this materialistic world, to leave for his heavenly abode on 22nd Oct 2007 creating an unforgettable void. He was born on 12th Jan 1942 in Naurasa, Pakistan. A top-notch, with keen intellect, sharp sense of observation and extremely good analytical skills – made him a man of great promise. Stead fast and honest in the pursuit of his goal, he joined the National Defence Academy and was commissioned as an officer to serve the 11th Battalion Brigade of The Guards of the Indian Army. He retired on 31st Jan 1994. Since then, as Manager, of the school he devoted himself unconditionally to nurture the school. His soul eternally resides in the school and will be a guiding source of inspiration to all of us here. He was a multifaceted personality, an icon of style and sophistication, a walking dictionary with unmatched knowledge of English and other languages. His forte was his understanding of music, performing arts and an exemplary display of guiding and training the teachers and children in their communicative skills. His life was a fairy tale written by God's own hands. A stickler for discipline, accuracy and efficiency, he believed in sharing his knowledge. He dialogued, he respected and he trusted and for all that he is wished every blessing and joy that God can bestow on him as he journey's not for the last time, towards where the spirit may lead. The greatest tribute we can pay to him is by following his ideals. 'No one is a perfectionist' but we all here in the school claim that 'Col. Sir was a Perfectionist'.
COL. SURJIT SINGH CHARITABLE TRUST
Under the name of Lt. Col. S.S. Mehar, the Col. Surjit Singh Mehar Charitable Trust was registered on 24th January 2008.
Projects are undertaken for the Child Old Blind Home Welfare Society wherein huge quantities of rations and greens are provided. Blankets are donated to Child Old Blind Home Welfare Society. Medicines are sent to Pasupati Kusth Ashram, Ambala along with a cheque of Rs. 11000